Tell me if this sounds familiar. You've lined yourself up at the buffet of your family's annual reunion barbeque. As you pick up your flimsy paper goods, you feel immediate doubt that this plate is up to the challenge that you are about to present. You lean forward and glance down the table where you can barely see the end and you actually consider grabbing two plates at once. As you cower to fear judgment from family members who are already questioning your life choices, you realize that you've got to head into this buffet with a strategy. Why on Earth would they make a plate with only three sections? I have never attended a (well-done) barbeque where there were less than two main dishes and at least seven sides that I need to ingest immediately.
There's something about a barbeque, whether it is potluck-style or prepared by a host, where overabundance seems to be a recurring theme. I mean barbeque in its purest form is slow roasting an entire animal to feed the whole village. I don't know about you, but for me, it would be pretty hard to get my hands on a steer or whole hog for our holiday feast. So how has this communal tradition evolved? We've over-filled our plates and our hearts with the real star of the show….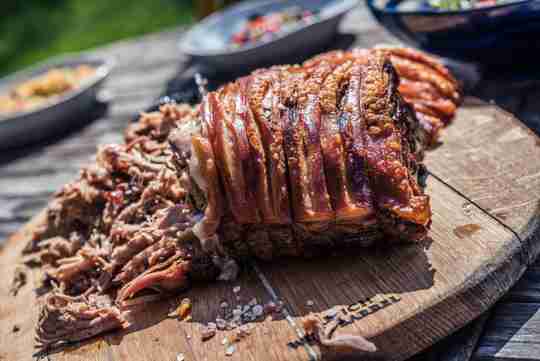 If you've thrown your hat in the ring to host this season's family barbeque, you've surely been thinking about what meat you plan to throw on the BBQ to impress your guests. Whether you choose brisket, pulled pork, or whole chicken, don't forget that many of your guests may be more excited about the sides than the main dish. You've got to have some of the classic barbeque side dishes to compliment the rich and smokey flavor of your savory main dish. Something with a little acid, something a little sweet, and something ice-cold can round out a platter to make for one excellent barbecue meal.
Put a pause on panic mode. Check out these grilling side dishes ideas to easily create your BBQ menu and ensure that you wow your guests at your next outdoor celebration.
Start with the staples
Some of the classic barbeque side dishes have become so commonplace that your guests may be disappointed if they don't see them on your BBQ spread. Depending on where you live, grilling side dishes like baked beans, potato salad, coleslaw, and macaroni and cheese are expected to be served up next to your main dishes of spicy jalapeno sausage or baby back ribs. These recipes are tried and true classics that are hard to mess up. If you want a stress free day, you can easily please your friends and family by serving them up some of these go-to barbeque side dishes.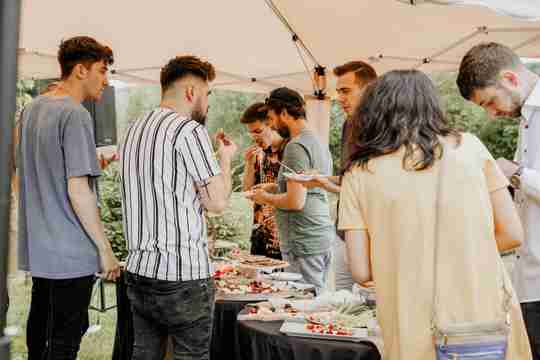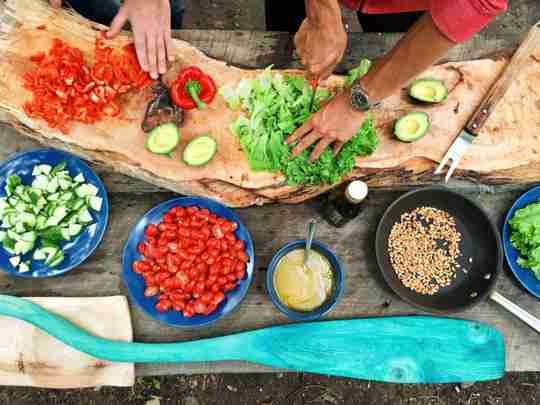 Mix it up with some seasonal specialties.
Whether your outdoor BBQ celebration is in honor of Labor Day, Memorial Day, Fourth of July, or just an ordinary, run-of-the-mill Saturday afternoon, using seasonal ingredients to make your grilling side dishes will surely make your menu pop. There's nothing like forcing an out-of-season recipe into your plans only to search through 3 of your local grocery stores trying to find the right ingredients. In addition, the more in season your produce is, the more vibrant, tasty, and impressive your barbeque side dishes will be. Better yet, if you have your own garden patch, you can save tons of money by using what is growing in season in your own yard. You can host your own little farm to table feast for your friends!
Summer
In the heat of summer, reach for those succulent juicy tomatoes to brighten up your BBQ table. Any grilling side dish can be made better by the addition of ripe Hass avocados and crisp English cucumbers. If you haven't spent a hot summer's day snapping green beans before the big feast, now is the time to try it. Don't forget to squeeze some fresh lemon juice over top for a refreshing barbeque side dish.
(Seriously the Best) Avocado Corn Salad


Rustic Tomato and Cucumber Salad


Yellow Summer Squash Casserole
Fall
Hold onto the warmth late into fall with grilling side dishes that star hardy greens like collard greens and kale. Acorn squash, pumpkin, and sweet potato can all play the role of sweet and savory as they balance out the richness of your BBQ main dishes. The best thing is that all of these ingredients pair perfectly with the hidden gem of BBQ sides: bacon! Try some of these autumn barbeque side dishes to impress your guests.
Creamy Apple Slaw with Cranberries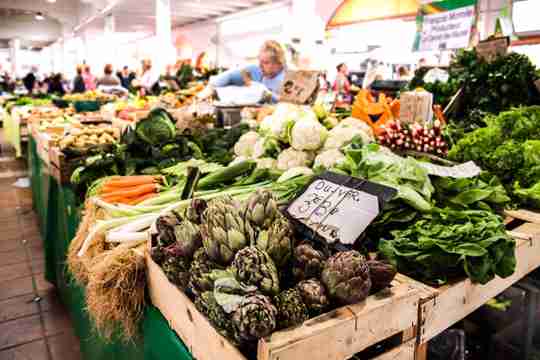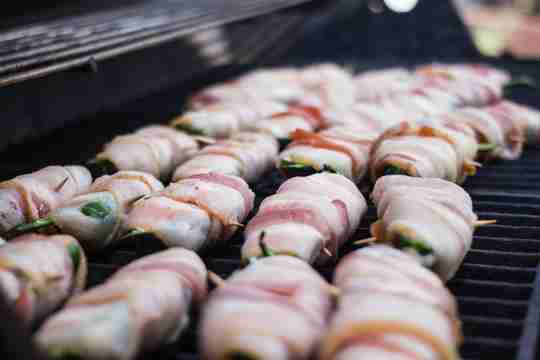 Go for the WOW factor
If you're a seasoned pro hosting your two hundredth BBQ, you may be looking to spice up your grilling side dishes with a little something extra. If impressing your guests with a perfectly slow-cooked pork butt is old hat for you, check out some of these barbeque side dish recipes that are a little bit out of the ordinary.
Irresistible Bacon-Wrapped Jalapeño Poppers
Mexican Street Corn (Torchy's Copycat)
In a hurry? Check your deli
If you have plans to attend someone else's barbeque celebration, you may be intimidated to make a grilling side dish from scratch. In addition, if you volunteer to host more than 20 people, it could get a little out of hand to make the barbeque main dishes and all the sides by yourself. Mix it up by making some side dishes yourself and picking up a few from the store. So many grocery stores have excellent selections for barbeque side dishes nowadays. Check your local deli and see what they have to offer. If you're worried about it, you could take it home and put it in your own Tupperware so that you don't get the side-eye from your judgy aunt when you arrive.
Most grocery store delis will have a selection of pasta salad and macaroni salad. These are simple and you can buy them confidently but check out what else your store has to offer. Cheese dips or hummus paired with some cut vegetables and crackers would be very impressive to your barbeque host. Another item you might be able to find is ready-to-grill stuffed peppers or even a premade seven-layer dip.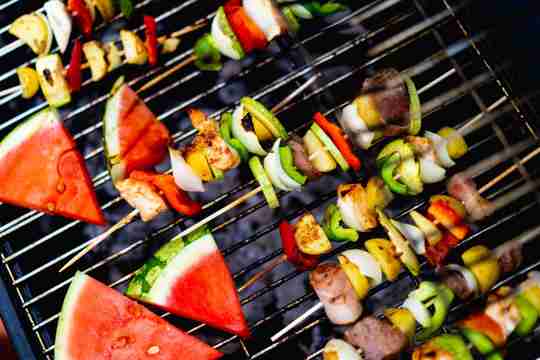 Make sure there is a little something for everyone
It may surprise you but it's possible that one of your guests (or their new boyfriend) could be a vegetarian or vegan. Whether by choice or due to dietary restrictions, you don't want to end up ostracizing one of your friends from your social gatherings by not making sure there is something for them to eat. Since vegan side dishes tend to be healthier, this provides a great option for your family who may be watching their weight as well. While a vegan heading to a BBQ would probably eat before they leave home, having something to offer them shows how much you care and truly makes everyone feel warm and welcome at your celebration. Make one of these vegan grilling side dishes at your next barbeque.
10-Minute Black Bean and Corn Salad
Vegan Caramelized Onion Mashed Potatoes
Throw it all on the grill
You might as well take advantage of the hot grill you've been burning up behind all day. These grilling side dishes are quite literally grillable. Save yourself some time, dishes, and clean up by using your barbeque instead of your stovetop or oven. If you have difficulty timing out your charcoal and your grill is always hot for 3 hours after your meat is done, don't let it go to waste! Throw some veggies on there to create some delicious grilled side dishes for your barbeque.
Cajun Butter Grilled Street Corn
Mediterranean Grilled Garlic Tomatoes
Grilled Bacon-Wrapped Asparagus
Drinks, please!
If your friends and family are gathered in fellowship in the great outdoors enjoying the delicious food you've prepared for them, a cocktail will be a welcomed (sometimes necessary) addition. Create a ready-made punch or mix so that your guests don't feel the pressure to play bartender. Make sure you clearly label pitchers that contain alcohol and always provide at least one non-alcoholic option for kids or adults who are not partaking. If you've got a low maintenance crowd, you may just want to grab a few cases of beer. If you know many of your guests are super particular about their beverage of choice, consider including BYOB on the invite.
Satisfy that sweet tooth
If you've gone through all the trouble of inviting everyone over, cleaned the whole house, sweated away in front of the grill, and put out a spread that Guy Fieri would be proud of, don't forget to offer your guests that sweetness they will surely be craving after a great meal. These grilling dessert recipes will have your guests leaving satisfied and in awe of your culinary skills.
DIY Ice Cream Cookie Sandwiches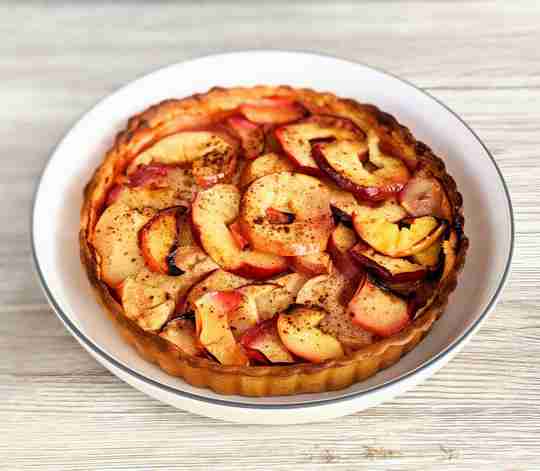 Here are a few tips to ensure that your grilling side dishes are perfect for serving to your friends and family during your outdoor barbeque.
Keep perishable dishes cool and safe for eating by placing the bowl over a slightly larger bowl or tray filled with ice.


Cover your barbeque side dishes with flour sack towels, or these fancy nets, to protect them from circling flies and other insects.


Make sure you choose the proper serving utensil, it can be difficult and embarrassing to chase green beans around the tray with a large spoon. Make sure you have forks, spoons, slotted spoons, and tongs.


Line up your buffet in a way that makes sense for your guests. Toppings and condiments should be at the end while any sort of bun or bread should be at the beginning. Also, guests are more likely to know which utensils they need at the end of the line and won't have to go back for more or take one they don't need and waste it.
It can definitely be an overwhelming task to host your friends and family for a celebration. But you don't need to stress because any combination of these grilling side dishes paired with your deliciously cooked main dish will make an unforgettable feast for your guests. If you choose to make what you like and what you're comfortable with cooking, there is no doubt that you will have a great time celebrating with your friends and family.